DUE TO COVID, THE PRIVATE PRISON MEETING SCHEDULED FOR 5:30 pm, WEDNESDAY, October 28, 2020, AT THE SCHOOL GYM, IS BEING POSTPONED. THE DATE WILL BE RESCHEDULED.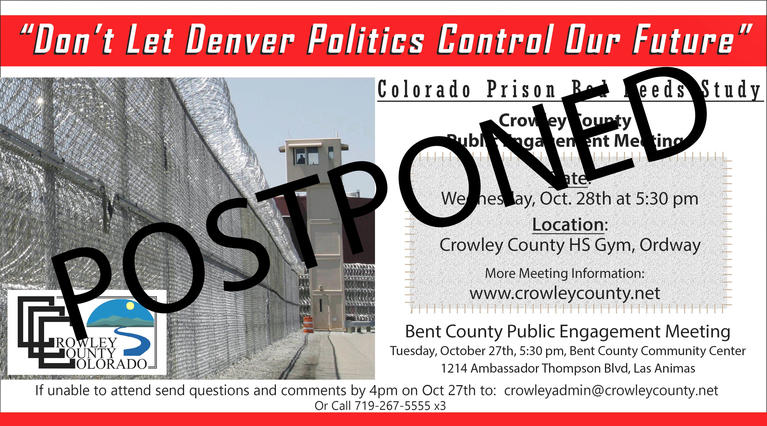 Earlier this year, the Colorado General Assembly passed HB 20-1019 that, among other items, mandates a prison utilization study to be undertaken by the Colorado Department of Local Affairs (DOLA).  The study is now underway.  The study will evaluate prison bed needs in Colorado and provide a utilization analysis of all state and privately operated facilities. It also will provide an analysis of the feasibility of the Colorado Department of Corrections to obtain privately owned facilities located in Las Animas and Olney Springs, or to utilize unused state-owned buildings to meet prison bed needs.  A second aspect of the study will determine the economic and other impacts that potential private prison closure would have on local governments and the wider community, and recommend strategies to diversify the affected local economies.  
Input from affected community members, local governments, and stakeholder groups is a key element of the economic portion of the study.  This is an opportunity to submit written comments that will be part of the public record surrounding the prison utilization study for consideration by the Colorado General Assembly.  
Please Go to this link to make your voice heard:
Other Impacts Closures could have on our Communities...
 Rick Ritter, OCHD has been following the possible closures of private prisons in Bent and Crowley Counties closely.  He wanted to share another certain impact those closures would have on our communities, and that involves the Social Determinants of Health (SDoH), which he think could be used as another strong argument against closure, please see the points below:
Essentially, poverty = poor health outcomes and risky behaviors; they vary directly in that as poverty increases, the risky behaviors and negative health outcomes increases. 
And now the details:
ü  Social Determinants of Health (SDoH) include factors such as economic stability (i.e. poverty), neighborhoods and built environment, health and healthcare, education, and social and community context.  These factors can have a very strong influence and impact on health outcomes (i.e. chronic disease, substance abuse that leads to negative health outcomes, etc.).
ü  The Colorado Department of Public Health and Environment acknowledges that economic inequities results in adverse health outcomes.
o   Closure of the private prisons will certainly exacerbate the economic inequities of Southeast, rural Colorado, thus leading to even more adverse health outcomes.
ü  Research definitively shows that poverty can lead to a higher prevalence of chronic disease.
o   As poverty is increased due to the closures of the private prisons, it is a valid assumption that the already high prevalence of chronic diseases will increase in Southeast, rural Colorado.
ü  The counties of Southeast, rural Colorado are already impoverished and have struggling economies, and not surprisingly these counties already lead the state in negative risk behaviors (substance abuse, tobacco use) and poor health outcomes.
o   More specifically:
§  The connections between poor socioeconomic status (such as poverty and education), health behaviors (such as substance abuse), and negative health outcomes (such as cardiovascular disease and cancer) has been widely studied and established.
·         The tri-county area of Bent, Crowley, and Otero is a perfect demonstration of those connections.
§  The percent of the tri-county population living in poverty is significantly higher than the Colorado percentage.
§  This area is home to some of the poorest counties in the state.  According to a past Colorado Chronic Disease State Plan, economically poorer households have less access to health-promoting resources.  This plan goes on to say, "To the east… a population that tends to be poorer, less educated and with higher prevalence of risk behaviors and chronic disease than the state in general."
·         Closure of the private prisons will certainly exacerbate this. 
§  Data for socioeconomic factors, health behaviors, and health outcomes:
| | | | | |
| --- | --- | --- | --- | --- |
|   | Colorado | Otero | Crowley | Bent |
| Persons in poverty | 9.6% | 23.5% | 47.4% | 32.0% |
| Children receiving TANF Basic Cash Assistance | 4.6% | 10.6% | 20.6% | 19.8% |
| High school graduate or higher, of persons age 25 years+ | 91.1% | 85.3% | 84.9% | 84.9% |
| Bachelor's degree or higher, persons age 25 years+ | 39.4% | 17.7% | 8.1% | 10.3% |
| Adult smoking  | 16% | 18% | 22% | 21% |
| Adult obesity | 21% | 29% | 23% | 25% |
| Poor or fair health | 14% | 23% | 24% | 21% |
| With a disability, under age 65 years | 7.3% | 13.0% | 19.4% | 19.4% |
                                                                                                                Source:  United States Census Bureau, Quick Facts, (2010-2018); Kids Count, 2017.
| | | | | |
| --- | --- | --- | --- | --- |
| 2013-2015 Leading Causes of Death (rate per 100,000) | Colorado | Otero | Crowley | Bent |
| Heart Disease | 126.3 | 210.6 | 136.8 | 146.4 |
| Cancer | 135.1 | 143.5 | 80.4 | 155.6 |
| Chronic Lower Respiratory Diseases | 46.5 | 105.9 | 84.8 | 92.8 |
Source:  Colorado Department of Public Health and Environment's Colorado Health Indicators
Note:  In all but one category, the counties in the tri-county area have higher rates than the state. 
ü  Local Public Health Agencies (LPHA) have statutory (Colorado Revised Statutes Title 25, Article 1, & Part 5) and regulatory (Code of Colorado Regulations Series 1000) obligations to provide population-based services in their jurisdictions.
o   One of the foundational essentials of LPHAs is funding, without funding the work and services simply cannot be done.
o   LPHAs rely on local government funding to support their work.
o   The closure of private prisons will definitely have a significant financial impact to the governmental entities that fund LPHAs.
§  This negative, financial impact could also negatively impact the funding that is directed to LPHAs from said governmental entities.
§  With potentially fewer financial resources, the LPHAs may have to cut/curtail/reduce services, which will translate into worsening the already poor health outcomes and negative risk behaviors.
FROM: Richard Ritter, Executive Director Otero County Health Department