Some say that All Veterans' Memorial Highway (State Highway 96) gently meanders through Crowley County, connecting each of our four towns. That's true, but it is also home of one of North America's best bike trails, the TransAmerica Bicycle Trail. The Prairie Horizons Trail portion of the TransAmerica Bicycle Trail may just become your favorite stretch across America's Heartland. Once you are here, you have nearly reached the half way point on the trail as you cruise through the town of Sugar City, CO, passing the Sugar City Cafe with its regionally known homemade cinnamon rolls.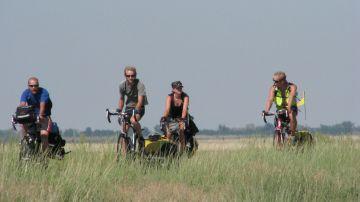 #FFFFFF
If you are traveling the TransAmerica Bicycle Trail heading east, the first friendly community you will stumble across will be the town of Olney Springs. Friendly people, shaded parks and a post office offer the travel weary biker a perfect respite. While just a few short miles further, the town of Crowley, is like taking a step back to the frontier days, as you travel along Main Street looking over the town's original buildings. Hiding just off the beaten path, a few blocks off the main street, you will find one of Colorado's best preserved examples of turn of the twentieth century architecture at the Crowley County Heritage Center. Free bathrooms, manicured heritage gardens, and an air conditioned museum make for a stop well worth the time.
Once you hop back onto All Veteran's Memorial Highway, heading east, the next town you will come across is the town of Ordway, CO. Ordway offers several restaurants to carb up at, a well stocked grocery store, a tavern, a nicely shaded park, and a friendly water park to cool off in. From Ordway you are only three short miles from the two sister lakes of Lake Henry and Lake Meredith. Both Lakes offer free camping sites, in addition to an opportunity to frolic in their cool waters, and visit with campers from a several state region on the weekends. If you happen across the lakes mid week you often feel as if you have the lakes all to yourself.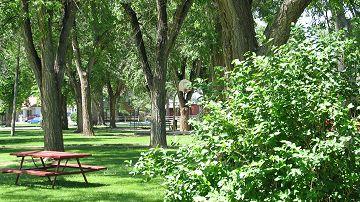 Ready for breakfast? Just hop back on the Prairie Horizons Trail, part of the TransAmerica Bicycle Trail, head east to the town of Sugar City, CO. Stop and enjoy a home-made meal. There you will be able to start you day off right, at a fraction of the price you would pay at other places along the way. After a good breakfast you'll be set to take on the day and make you way another fifty miles or so to the next stop along the Prairie Horizons Trail portion of America's premier TransAmerica Bicycle Trail. NEW:  IN SUGAR CITY is Tent City - revived for bicyclist's and others for a nights stay with a porta potty, water and a BBQ pit.
Happy trails!